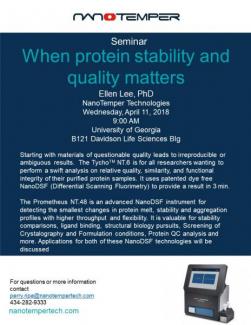 B121 Davidson Life Sciences
Come learn how NanoDSF (Differential Scanning Fluorimetry) can improve your research by detecting the smallest changes in protein melt, stability and aggregation profiles with high throughput. Get valuable data for stability comparisons, ligand binding, structural biology pursuits, Screening of Crystallography and Formulation conditions, Protein QC analysis and more.
This is a live demonstration. Contact Michelle Lewis if you would like your protein analyzed. 
Light refreshments will be served.