Image: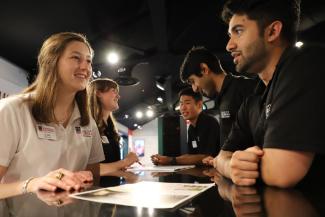 University of Georgia senior Claire Bunn will continue her studies in lung biology this fall as one of 23 Americans selected for the 2022 class of Gates Cambridge Scholars. The scholarship fully funds postgraduate study and research in any subject at the
Bunn is UGA's ninth Gates Cambridge Scholar in the program's 21-year history. The scholarship, which recognizes intellectually outstanding postgraduate students with a capacity for leadership and a commitment to improving the lives of others, was established by a gift from the Bill and Melinda Gates Foundation. Since the first class in 2001, Gates Cambridge has awarded 2,003 scholarships to scholars from 111 countries who represent more than 700 universities globally.
Bunn will graduate in May with a bachelor's degree in genetics. She was named a Goldwater Scholar in 2021 and is a Foundation Fellow, Stamps Scholar and Honors student in the Franklin College of Arts and Sciences and Jere W. Morehead Honors College.
Since her freshman year, Bunn has devoted much of her time to researching protein kinases, using bioinformatic and biochemical approaches with Natarajan Kannan, a professor of biochemistry and molecular biology. She also works as a campus tour guide through the UGA Visitors Center.
In fall 2020, she began researching developmental lung biology, working remotely with Dr. Jennifer Sucre, an assistant professor of pediatrics at Vanderbilt University Medical Center and a UGA Foundation Fellow alumna, conducting digital imaging analysis of the lung tissue samples of preterm infants with bronchopulmonary dysplasia, a form of chronic lung disease that affects newborns. Bunn quickly gained an interest in research at the intersection of developmental and cancer biology — topics she will continue to study this fall. At Cambridge, she will pursue a Ph.D. in the Department of Physiology, Development and Neuroscience. Her goal is to investigate the cellular mechanisms governing embryonic lung development and tissue maintenance.