Image: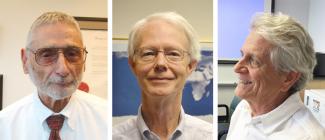 Three retiring professors were honored Wednesday for their years of service to the department.
Drs. Dan DerVartanian, Claiborne Glover, and Alan Przybyla were recognized during an ice cream social event attended by faculty, staff and students of the biochemistry and molecular biology department.
DerVartanian, who served the department in roles including professor and former chairman of the division of biological sciences, came to the university in 1968, after receiving his doctorate of science in biochemistry from the University of Amsterdam (Netherlands). DerVartanian also holds a master's in chemistry from Northeastern University, as well as a bachelor's in chemistry from Boston University.
Glover held roles as a professor and as interim head of the department during his time at the university, which began in 1982. Dr. Glover earned his Ph.D. in biology from the University of Rochester, a master's in biology from Georgia State University, and a bachelor's in English from Duke University.
Przybyla, who received his Ph.D. and bachelor's from University of California (Berkeley), joined the university in 1977, and served in roles including professor, graduate coordinator, and associate head over the years.
All three retirees will continue activities within the department in the coming semester: DerVartanian and Przybyla in teaching roles, and Glover in a research role.