Image: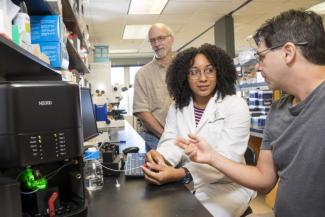 The University of Georgia's online newspaper Columns recently featured the PREP@UGA Scholars program, highlighting members of the department of biochemistry and molecular biology.
The program, co-directed by Dr. Mark Tompkins of the College of Veterinary Medicine and BMB's Georgia Athletic Association Professor of Innovative Science Education Dr. Erin Dolan, focuses on "the research experience and the career around it," Dolan told Columns, including professional development workshops and mentorship.
"Undergraduate students are in the mindset of taking classes, but in grad school they don't just consume knowledge, they create it," Dolan told Columns. "This program smooths that transition to graduate school and to thinking like a scientist."
Each year, according to Columns, PREP@UGA Scholars funds "a cohort each year of six to eight scholars from underrepresented groups or with limited opportunities in the STEM fields at their undergraduate institution."
One cohort member, Jilarie Santos-Santiago of BMB's Dr. Stephen Hajduk's lab, said the mentorship has allowed her to "step out of my comfort zone," according to Columns.
"The transition to a Ph.D. program, it can be overwhelming. Even this building is confusing when you come from a small college," she told Columns. "It can be a lot to take in, but if you don't take the first step, you never do it. This was the right first step for me."